Verslaggever Samen naar Klassiek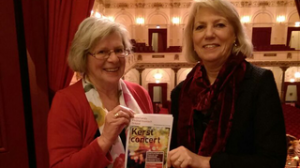 Wie graag naar klassieke concerten wil, maar niemand kent om die liefde voor klassieke muziek te delen, kan zich sinds december 2016 melden bij Omroep MAX.  Samen naar Klassiek heet het initiatief, waarin muziekliefhebbers aan elkaar gekoppeld worden.

En ik mag live verslag doen van deze muziekdates! Elke keer weer spannend of er een 'match' is en of de gekoppelde personen samen een gezellige, muzikale avond hebben.
Op de website van 'Samen naar Klassiek' kun je fragmenten beluisteren.